Environmental Policy
Environmental Control Supervisor
Main Office and Factory, Nissin Chemical Industry Co., Ltd.
Environmental philosophy
The Main Office and Factory of Nissin Chemical Industry is aware of its responsibility with regard to protecting the planet through environmental conservation as well as with respect to ensuring health and safety. We strive towards implementation and improvements to environmental conservation in every aspect of our corporate activities.
Course of action
Our environmental management is implemented through an environmental management system constructed to comply with ISO 14001.
We strive to completely understand the environmental impact of business activities at our factory, set forth goals and objectives regarding elements of activities that negatively impact the environment, and regularly revise our outlook in order to continually improve the environment. Areas in which we are directing particularly focused efforts are as follows.


Seeking a reduction in environmental burden, we continually work towards improvements in output levels, minimize waste material production, and implement a natural resource and energy conserving philosophy.
As a chemical factory, we handle a variety of chemical substances. However, we work towards prevention of environmental pollution by implementing appropriate management procedures with respect to environmental pollutants.
As a factory that handles high-pressure gasses and dangerous materials, we work to actualize safe operations by reducing accidents and trouble through absolute and constant awareness towards preventing explosions and fires.

While adhering to environmental laws, regulations, and agreements, we will work towards preventing environmental pollution.
We educate all our employees about environmental conservation and are working to heighten awareness and understanding of our environmental policy. At the same time, we perform environmental conservation activities from a wide range of viewpoints with a focus on the local community and global environment.
Acknowledging the geographical conditions of being located alongside the Hino River, we strive to preserve the state of this water system and to contribute to the local community.
Environmental management system registration
| | |
| --- | --- |
| Applicable standard | ISO 14001 |
| Date of registration | April 24, 2000 |
| Registration number | E-0137 |
| Registration agency | Japan Chemical Quality Assurance Ltd. |
Recent significant construction work on environmental-related facilities
| | |
| --- | --- |
| April 1999 | Installation of No. 2 drainage treatment facility |
| April 2000 | Installation of flue gas combustion furnace |
| April 2000 | Increase and installation of flue gas recovery equipment |
| August 2001 | Installation of soot and dust prevention equipment |
| March 2006 | Installation of No. 3 drainage treatment facility |
| May 2008 | Construction of nitrogen gas seal for tanks containing dangerous materials |
| March 2010 | Installation of VOC cleaning facilities |
| February 2011 | Installation of a solar-power generation system at the office of manufacturing depertment |
Activities being undertaken that are in line with our Course of Action (listing)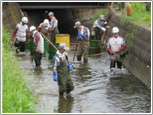 Energy conservation (Energy Designated Factory [type-I thermoelectric]) measures
Reduction of waste materials
PRTR Surveys
Public river cleanup (photo on the right), picking up empty aluminum cans on area roads
The Minister of Health, Labour and Welfare Excellence Award
Certified by the Ministry of Health, Labour and Welfare's Comfortable Workplace Promotion Program